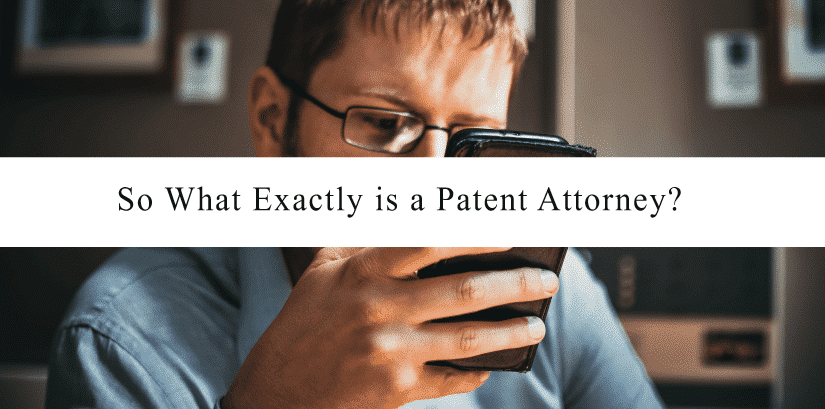 by
aadibi
Inventors 101: What Exactly is a Patent Attorney?
So you've decided to hire a patent lawyer, but you may not be sure where to start or familiar even with what they can do. Patent law is a highly specialized, highly technical area of law that most regular lawyers don't really understand. Having a good patent lawyer on your side can ensure that your ideas and inventions are protected to the utmost extent and deter them from being compromised. But even the finest weapon is useless in the hands of someone who doesn't know how to use it. So let's break down what patent lawyers are and what they do.
As the name would suggest, patent lawyers are trained and tested in the specific field of law relating to patents and intellectual property. Not all lawyers are proficient in these areas, so it is never a good idea to substitute any other type of lawyer for a specialized patent lawyer. Learning how to effectively construct a quality patent application takes years of apprenticeship with an experienced attorney.
Patent lawyers can help inventors and innovators conduct research, serve as a guide through the patent application process, and create an airtight patent to protect your invention or idea against some of the most relentless attacks in court. They can also discern whether an idea or invention is innovative enough to actually be entitled to a patent in the first place. Patent lawyers submit applications for the protection of a variety of national and international industrial rights, provide advice on contradictions, cancellations, third party objections, contracts, as well as violations against industrial or intellectual property. They are able to represent clients before The Swiss Federal Institute of Intellectual Property, the European Patent Office, and the World Intellectual Property Organization (WIPO).
So what does it take to become a patent lawyer? Being proficient, knowledgeable, and effective in the field of patent law doesn't come easy. Patent lawyers undergo an extensive amount of education and training before becoming licensed or reputable practitioners.
An aspiring patent lawyer usually earns a degree in a scientific or technical field, such as chemistry, biology, physics, or engineering, and then completes a Juris Doctor (J.D) law program at an accredited university. After passing the bar exam, they must then take and pass the Patent Bar exam administered by the United States Patent and Trademark Office (USPTO). At that point, they will then be licensed to practice, but will often enter into an apprenticeship at a firm under the mentorship of a highly experienced patent attorney. Apprenticeships can last up to years, but they provide novice attorneys with the experience and refinement of skills that they need in order to successfully practice in the field. Since the field of patent law is constantly changing and evolving with technological and scientific advancements, lawyers must make it a point to stay up to date with relevant patent laws and noteworthy innovations throughout the duration of their careers.
Is one patent lawyer just as good as another? Not by a long shot! Because of the extensive education and training required to become one, good, reputable patent lawyers can be difficult to come by. Often times, large and mid-size firms that service individuals or smaller businesses don't always provide those clients with the best service. They generally end up assigning a junior attorney that does not have an adequate amount of experience to the cases, and if there happens to be a senior attorney involved, it is rare that they will be properly supervising their junior attorneys. These firms generally tend to be corporation focused, with their main priority being the growth and retention of a larger corporate client base, and so, when approached by smaller companies or individual cases, they don't usually provide adequate services.
This lack of adequate service can often produce horrendous results for clients. According to Russ Weinzimmer, a patent attorney who works with small companies and individuals, "When a patent application is poorly written, it may be worthless and possibly harmful because it creates the illusion of protection. You might make mistakes in judgment and in how to conduct your business because you think you have that legal protection when in fact, you don't."
Because patent law is such a specialized area within legal practice, effective patent lawyers require not only a vast amount of technical insight, but also the ability to write, teach, explain, and elaborate with great clarity. Due to their extensive technical backgrounds, some patent lawyers lack the ability to articulate and explain what they know in a legible manner. Producing a solid patent application takes a significant amount of both legal and technical knowledge, and subsequently, the ability to clearly relay that knowledge in a concise manner that can withstand criticism from the most proficient patent attorneys in the country upon litigation.
So how do I find the right one for me? Finding a patent attorney to effectively suit your needs won't always be easy, but it will always be worth it. You want your idea to be protected properly, and in order for that to happen properly, it will take some time and legwork on your part. This is one scenario in which you are going to want to avoid Google for the most part, as even a local search will produce an overwhelming amount of promotional sites that are largely indistinguishable from one another. You will also want to avoid 800 numbers and websites with obvious stock photos.
Start with your needs first.
Your absolute first priority in seeking the aid of a patent attorney should be figuring out what you need to accomplish what you want. This means figuring out where what you're doing fits in. If your patent is based in a specialized area, you're going to want to work with people who are trained and specialize in that same area. If your business focuses on creating and marketing new and original products, you will want to look for someone whose practice focuses on patents and copyright. On the other hand, if your company's priority is online endeavors or publishing, you will want someone whose focus and experience is with First Amendment and information technology law.
Once again, if your business already has legal counsel unrelated to patents or intellectual property, it is not recommended that you use them in lieu of a patent attorney.
Scout the competition.
Secondly, you will want insight as to how much competition you (and your attorney) are going to have from other patent holders- you can check the USPTO website for information regarding your market and potential competitors. The more active the space, the more time and effort it will take to ensure your idea's survival and protection, and in this case, you will want to have an attorney with excellent credentials and a wealth of experience in your area. (But remember: the more experienced the attorney, the higher the service fees.)
Draft a team.
Ultimately, you're going to end up choosing only one lawyer, but in an ideal world, you would have a team. For this next step, you want to assemble a list of five to seven qualified and capable attorneys that would make your ideal team. Lawyers.com is known to be a reliable and valuable resource for doing just this; you can narrow your search down to your geographic area and the particular parameters that you want to operate within. With "business" as the topic, you can find "intellectual property" under the area of practice, and from there, choose a subcategory for further specification.
Get to know your teammates
Once you have your initial list of qualified candidates, you will want to do a little background check on them- but nothing too serious! A quick Google search should suffice to provide you with insight as to their reputations, press relations, what their workload looks like, and more. If you see that an attorney has been working on one or more large cases for a lengthy amount of time, you might want to pass them up in favor of someone with more time to devote to your case. If you wanted to go a little further, you could contact your state's Bar Association and inquire about the current standing of your candidates or confirm their backgrounds.
Meet your team
Once you have five to seven of your favorite candidates assembled, its time to reach out to them for two things: the first is to confirm that they are accepting new clients, and the second is to schedule a preliminary interview upon confirmation. "I treat attorneys like I do physicians," says John E. Clarkin, professor of entrepreneurship at the College of Charleston, "This is a person I'm going to spend a lot of money on and they will determine the health of my business."
As with any interview, when meeting each member of your team, you will want to be prepared with whatever relevant questions you will need answered, including, but not limited to: How do you, in particular, go about conducting a patent search? What patents have you previously registered? How long will the process take? What will it cost? Can you reference any clients that you have previously worked with?
Other things you can look into are whether the attorney or any of their connections have any conflicts of interest or if they are representing any interests that are in opposition to or intersect with your own business. It is also recommended that you request a copy of the firms retainer agreement for your records and make sure that you comprehend it before moving forward in your process.
As mentioned earlier, finding a good patent attorney isn't the easiest thing to do, but the time and effort that you put into it will always pay off, and they will make sure your ideas and inventions are protected from compromise or infringement. At the end of the day, when making your decision, always remember that one of the most important things a patent lawyer needs to be able to do is explain and elucidate clearly. When conducting your interviews, be mindful of how your candidates are explaining their backgrounds, experience, and interests, as it can provide you with insight as to the quality of their representation of you. Above and beyond all, you want to find someone who is going to do the best job of protecting your ideas, and the best way to do that is to equip yourself with enough knowledge to determine what is going to be right for you and your business in the long run.
aadibi
Latest Posts
by web dev
Patents play a vital role in protecting intellectual property and fostering innovation. However, the patent application process can be complex and...
by web dev
The world as we know it has been shaped and transformed by the power of invention. Throughout history, brilliant minds have emerged, bringing forth...