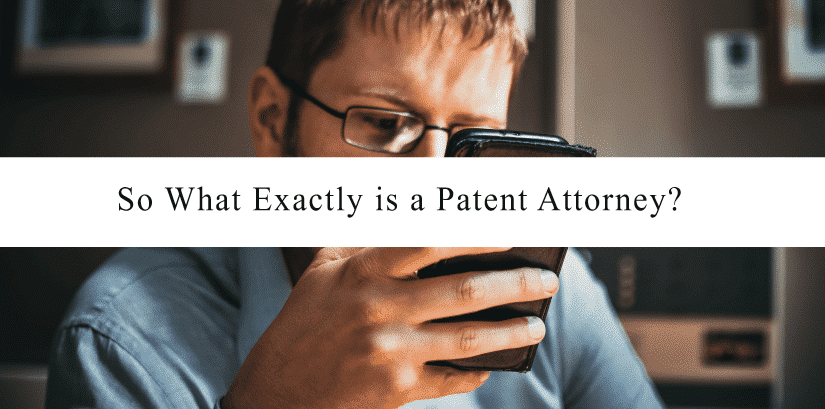 by aadibi
So you've decided to hire a patent lawyer, but you may not be sure where to start or familiar even with what they can do. Patent law is a highly specialized, highly technical area of law that most regular lawyers don't really understand. Having a good patent lawyer on your side can ensure that your ideas and inventions are protected to the utmost extent and deter them from being compromised. But even the finest weapon is useless in the hands of someone who doesn't know how to use it. So let's break down what patent lawyers are and what they do.
As the name would suggest, patent lawyers are trained and tested in the specific field of law relating to patents and intellectual property. Not all lawyers are proficient in these areas, so it is never a good idea to substitute any other type of lawyer for a specialized patent lawyer. Learning how to effectively construct a quality patent application takes years of apprenticeship with an experienced attorney.
Patent lawyers can help inventors and innovators conduct research, serve as a guide through the patent application process, and create an airtight patent to protect your invention or idea against some of the most relentless attacks in court. They can also discern whether an idea or invention is innovative enough to actually be entitled to a patent in the first place. Patent lawyers submit applications for the protection of a variety of national and international industrial rights, provide advice on contradictions, cancellations, third party objections, contracts, as well as violations against industrial or intellectual property. They are able to represent clients before The Swiss Federal Institute of Intellectual Property, the European Patent Office, and the World Intellectual Property Organization (WIPO).
So what does it take to become a patent lawyer? Being proficient, knowledgeable, and effective in the field of patent law doesn't come easy. Patent lawyers undergo an extensive amount of education and training before becoming licensed or reputable practitioners.
An aspiring patent lawyer usually earns a degree in a scientific or technical field, such as chemistry, biology, physics, or engineering, and then completes a Juris Doctor (J.D) law program at an accredited university. After passing the bar exam, they must then take and pass the Patent Bar exam administered by the United States Patent and Trademark Office (USPTO). At that point, they will then be licensed to practice, but will often enter into an apprenticeship at a firm under the mentorship of a highly experienced patent attorney. Apprenticeships can last up to years, but they provide novice attorneys with the experience and refinement of skills that they need in order to successfully practice in the field. Since the field of patent law is constantly changing and evolving with technological and scientific advancements, lawyers must make it a point to stay up to date with relevant patent laws and noteworthy innovations throughout the duration of their careers.
Is one patent lawyer just as good as another? Not by a long shot! Because of the extensive education and training required to become one, good, reputable patent lawyers can be difficult to come by. Often times, large and mid-size firms that service individuals or smaller businesses don't always provide those clients with the best service. They generally end up assigning a junior attorney that does not have an adequate amount of experience to the cases, and if there happens to be a senior attorney involved, it is rare that they will be properly supervising their junior attorneys. These firms generally tend to be corporation focused, with their main priority being the growth and retention of a larger corporate client base, and so, when approached by smaller companies or individual cases, they don't usually provide adequate services.
This lack of adequate service can often produce horrendous results for clients. According to Russ Weinzimmer, a patent attorney who works with small companies and individuals, "When a patent application is poorly written, it may be worthless and possibly harmful because it creates the illusion of protection. You might make mistakes in judgment and in how to conduct your business because you think you have that legal protection when in fact, you don't."
Because patent law is such a specialized area within legal practice, effective patent lawyers require not only a vast amount of technical insight, but also the ability to write, teach, explain, and elaborate with great clarity. Due to their extensive technical backgrounds, some patent lawyers lack the ability to articulate and explain what they know in a legible manner. Producing a solid patent application takes a significant amount of both legal and technical knowledge, and subsequently, the ability to clearly relay that knowledge in a concise manner that can withstand criticism from the most proficient patent attorneys in the country upon litigation.
So how do I find the right one for me? Finding a patent attorney to effectively suit your needs won't always be easy, but it will always be worth it. You want your idea to be protected properly, and in order for that to happen properly, it will take some time and legwork on your part. This is one scenario in which you are going to want to avoid Google for the most part, as even a local search will produce an overwhelming amount of promotional sites that are largely indistinguishable from one another. You will also want to avoid 800 numbers and websites with obvious stock photos.
Start with your needs first.
Your absolute first priority in seeking the aid of a patent attorney should be figuring out what you need to accomplish what you want. This means figuring out where what you're doing fits in. If your patent is based in a specialized area, you're going to want to work with people who are trained and specialize in that same area. If your business focuses on creating and marketing new and original products, you will want to look for someone whose practice focuses on patents and copyright. On the other hand, if your company's priority is online endeavors or publishing, you will want someone whose focus and experience is with First Amendment and information technology law.
Once again, if your business already has legal counsel unrelated to patents or intellectual property, it is not recommended that you use them in lieu of a patent attorney.
Scout the competition.
Secondly, you will want insight as to how much competition you (and your attorney) are going to have from other patent holders- you can check the USPTO website for information regarding your market and potential competitors. The more active the space, the more time and effort it will take to ensure your idea's survival and protection, and in this case, you will want to have an attorney with excellent credentials and a wealth of experience in your area. (But remember: the more experienced the attorney, the higher the service fees.)
Draft a team.
Ultimately, you're going to end up choosing only one lawyer, but in an ideal world, you would have a team. For this next step, you want to assemble a list of five to seven qualified and capable attorneys that would make your ideal team. Lawyers.com is known to be a reliable and valuable resource for doing just this; you can narrow your search down to your geographic area and the particular parameters that you want to operate within. With "business" as the topic, you can find "intellectual property" under the area of practice, and from there, choose a subcategory for further specification.
Get to know your teammates
Once you have your initial list of qualified candidates, you will want to do a little background check on them- but nothing too serious! A quick Google search should suffice to provide you with insight as to their reputations, press relations, what their workload looks like, and more. If you see that an attorney has been working on one or more large cases for a lengthy amount of time, you might want to pass them up in favor of someone with more time to devote to your case. If you wanted to go a little further, you could contact your state's Bar Association and inquire about the current standing of your candidates or confirm their backgrounds.
Meet your team
Once you have five to seven of your favorite candidates assembled, its time to reach out to them for two things: the first is to confirm that they are accepting new clients, and the second is to schedule a preliminary interview upon confirmation. "I treat attorneys like I do physicians," says John E. Clarkin, professor of entrepreneurship at the College of Charleston, "This is a person I'm going to spend a lot of money on and they will determine the health of my business."
As with any interview, when meeting each member of your team, you will want to be prepared with whatever relevant questions you will need answered, including, but not limited to: How do you, in particular, go about conducting a patent search? What patents have you previously registered? How long will the process take? What will it cost? Can you reference any clients that you have previously worked with?
Other things you can look into are whether the attorney or any of their connections have any conflicts of interest or if they are representing any interests that are in opposition to or intersect with your own business. It is also recommended that you request a copy of the firms retainer agreement for your records and make sure that you comprehend it before moving forward in your process.
As mentioned earlier, finding a good patent attorney isn't the easiest thing to do, but the time and effort that you put into it will always pay off, and they will make sure your ideas and inventions are protected from compromise or infringement. At the end of the day, when making your decision, always remember that one of the most important things a patent lawyer needs to be able to do is explain and elucidate clearly. When conducting your interviews, be mindful of how your candidates are explaining their backgrounds, experience, and interests, as it can provide you with insight as to the quality of their representation of you. Above and beyond all, you want to find someone who is going to do the best job of protecting your ideas, and the best way to do that is to equip yourself with enough knowledge to determine what is going to be right for you and your business in the long run.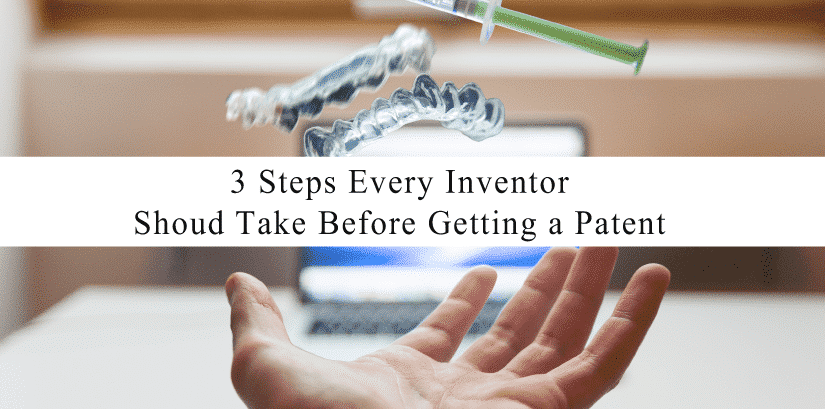 by aadibi
If you've just had your stroke of genius moment, or are trying to protect or advance the IP within your startup or small business the tips in this article should help you increase your chances of success. My hope is that by the end you'll be as prepared as you can be for the realities that are going to face any new idea when you it hits the market.
I've talked with hundreds of successful and nascent inventors. It's hard to point to one determining factor that unites them all, but one common theme I see time and time again is that most inventors get tripped up when it comes time to actually determining if there is a market out there for their products.
The biggest mistake that people make is relying too much on their gut. Sure yo have to have a dream ands tick to it. But sitting around thinking that you'll know where the market is going when you could just go out and ask people is a dangerous strategy.
Look at the example of Quirky, a company that tried to crowd source innovation by having people vote on inventions they like. There biggest failure was an $800,000 development project for a kit that could turn anything into an RC car, that never even saw store shelves. The biggest issue wasn't that they didn't have good or interesting ideas. The problem was that the people voting weren't buyers. And as a whole the company had no idea who any of their buyers would be.
If you're like most engineers, entrepreneurs, or first time inventors you're overflowing with a tons of great ideas. Big dreams you'd love to see come to be. But deciding which ideas to pursue, and which ideas are the best to build out and test, and then further on, which ideas are worth even thinking about patenting is a big task. Taking too many of the wrong shots can exhaust a new enterprise and any inventor.
As a fun little exercise work through this flow chart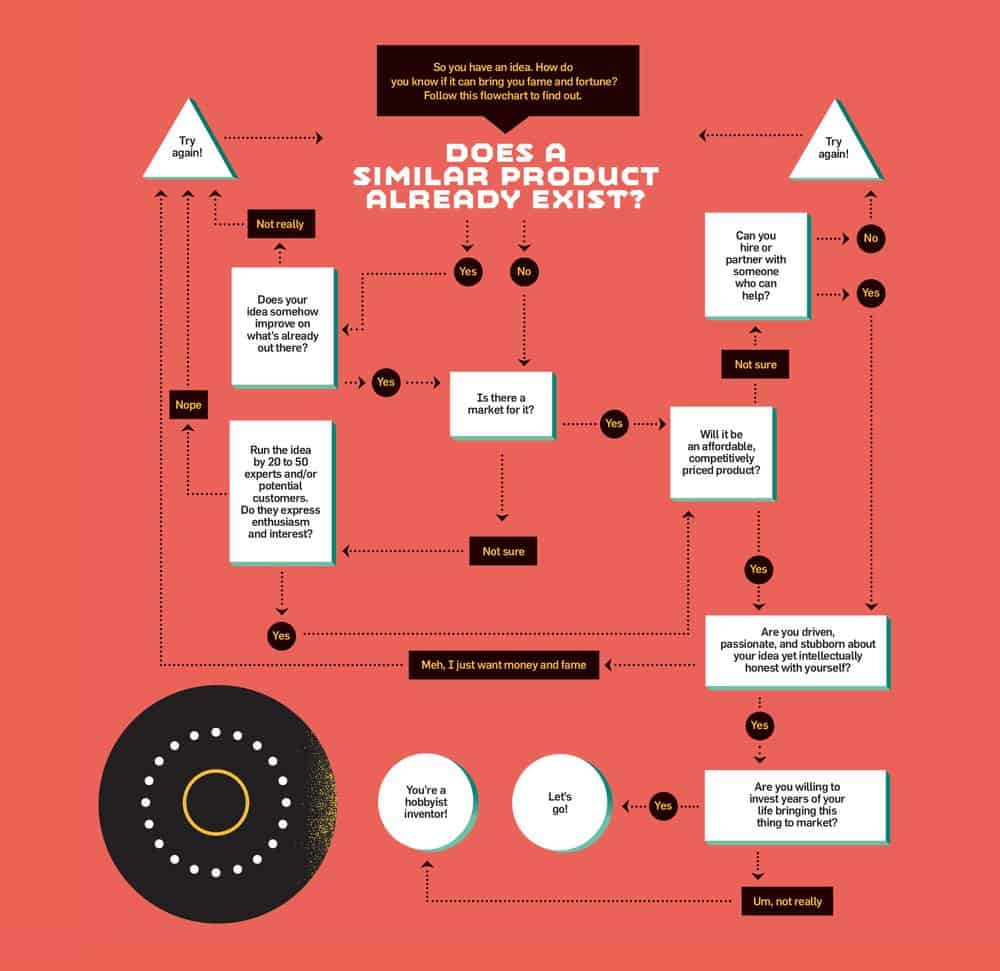 Source: Popular Science, "Inventor's Handbook" package , Illustrations by Doublenaut
Now a patent alone can be a huge part of a smart growth strategy, but I don't want people to come away from this with any level of naiveté, a great patent can't save or create a business. You might be able to effectively license a patent, but make sure you can really build a business around an idea by following the steps below before trying to get a patent.
How to Test An Idea Before You Try to Launch a Business, or Think about Patenting It
Step 1: Solidify Your Idea for an Invention
Hover boards. We all want hover boards.
It's a great idea…but that's all, it's just an idea.
Let's say you wanted to build as hover board. And you figured out how to make it work and power it without hassle. Now you could patent it here, but your work is still not done. How are you going to sell it? How will it charge? Will it fly or just hover?
I recommend that all inventors, and many of my friends, work through Peter Theil's 7 Questions for Product Innovation framework. Before you get to excited. Ask yourself?:
Can we build something 10X better than what is already there? i.e. will my new hover board be 10x better for consumers than existing skateboards? How about walking or biking, will it really be more convenient in a real way? Are there dangers I'm not thinking of?
Is it the right time? Can my idea actually thrive in this market?
Will I be able to "own" my market? If it's easy for another billion dollar company in my market to make some minor changes, it's probably not worth building
Am I the right person to build this? and If not, do I know the people who can and would they?
Can I distribute this? Do I know how I could actually sell this and get it to market.
How durable is my idea? What will happen in 10 years when there could be hundreds of people selling something similar to my idea? Will customers still want to buy from me?
Is there some secret magic here? Does your innovation uncover a secret, which solves a fundamental problem for the customer?
Peter Theil's winner take all ideology might be too much for you, but a t a basic level think through your idea, and keep a list of your notes.
The gaol at this point is to just have a basic business plan or elevator pitch. Can you describe your product/idea in one sentence to your target customer? Would your grandma get it?
Some Further Questions:
What's your purpose? does this idea fulfill a dream you have a strong feeling towards? Being an entrepreneur is hard. It's brutal and lonely.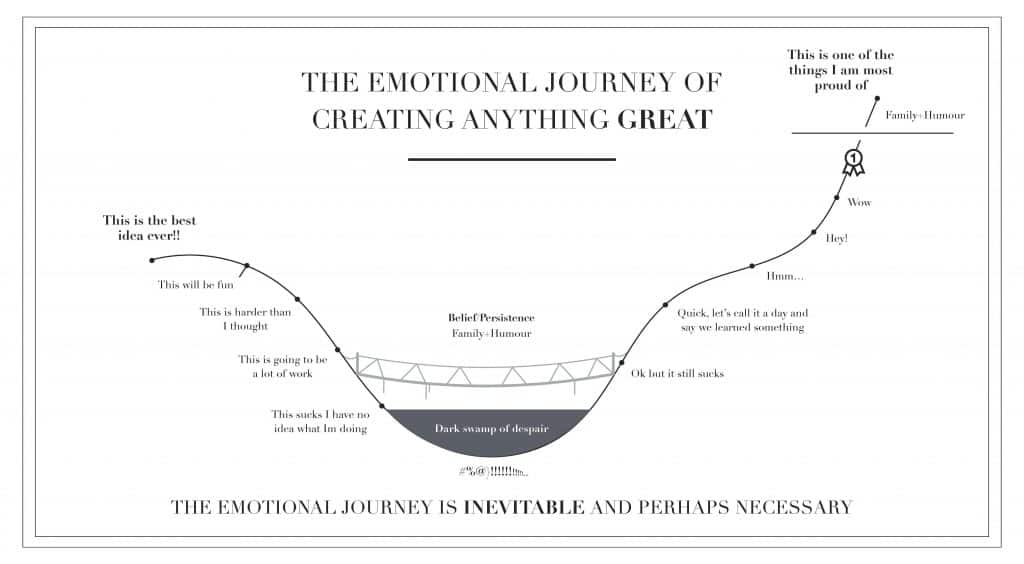 Source: John Saddington
That big old chasm in the middle there, what is often referred to as the "Startup Valley of Death," will take a lot of passion to get through.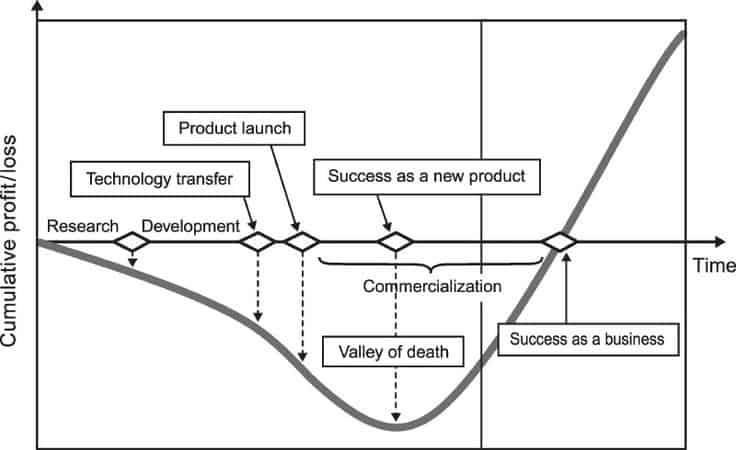 Source: Osawa and Miyazaki, 2006
 Be prepared for the reality that your idea might change as you progress through the steps outlined above.
Are you solving a real problem? If customers don't know they have the problem you think they do, or they don't quickly grasp why they want it, it's probably not going to be an easy sell.
If there are people that have the problem, can you find them and talk to them?
Hopefully you had answers for all of the above questions. And that's good, next, we need to check out the market.
Research the Market
The biggest hurdle will be if an invention already exists. Just because you haven't heard of something it doesn't mean that people aren't already selling, or haven't tried to sell it before. If it didn't work for them there may be a good reason. I recommend doing a patent search and going through the "un-official" patent search method I've outlined in this how to for patent searches. Trying to locate similar products on the market can let you know what sorts of challenges might face your new invention.
Try to consider who would actually buy your product. Say you were inventing a new kind of water, well it's hard to find any one person that really really wants it since we all need. But maybe you sell something that's sports specific. Well, then like Gatorade, you know that you need to target athletes. go through the process of who would ultimately "buy" your idea and start to understand what and how those people shop.
Next, take some time.
Yeah really, take a bit of time. Process what's out there. as Greg Isenberg, a venture capitalist and serial entrepreneur, said in a 2014 interview, After I've gone through the process of writing down a bunch of ideas, I don't like to rush into building a business plan or recruiting the team," Isenberg stated. "I like to wait a few weeks, [to] see which ideas really stick with me." Taking this time before you jump head over heals will let you genuinely evaluate on a personal level if you're still interested in the idea after the initial luster has faded.
Finally, start small. Create a Prototype or Build a Minimum Viable Product (MVP).
This is "the simplest form of your idea that you can actually sell as product," said Eric Ries, a Silicon Valley-based entrepreneur and the author of "The Lean Startup" (Crown Business, 2011). Or as Reid Hoffman has put it:
 If you are not embarrassed by the first version of your product, you've launched too late.
Getting something simple out will let you gauge what other hurdles you might face, and actually have something tangible to show people.
Step 2 Get Validation
Don't fear feedback. Good feedback will make your idea better.
The big thing witch gauging an ideas possibility of success is to always be open to feedback and to seek validation for your ideas. You need constant feedback to succeed. 
Now that we have an MVP we can actually test it on the market. There are multiple ways to do this, but basically you can test out your idea in a small way out in the wild and see how people would react.
Create a simple landing page, and send Ads to it. There are multiple routes you could take here, but I'll just shoot your over to the brilliant Product Creation Masterclass from ConvertKit. It's relatively easy to set up Facebook Ads, Reddit Ads, or plain old Adwords to get people looking at your "idea" in it's final form. 
You could even get more intense and create a website and social media presence, building on the strategy outlined above. This is something you could show to friends, colleagues, and potential customers to gauge interest, heck, you could even take preorders.
Expose people to your site or landing page on User experience sites like Usability Hub. Do they get it?
Present your  MVP to friends and family. They may have heard your original idea, but what do they think of the "product" that creates. You can also look for Facebook Groups, or SubReddits that might be interested and try to show them your product.
Don't forget to ask for help, or ask people for favors! If there are one or two individuals or communities you think would be perfect for your idea, consider "pitching" it to them. See if you can get them to use it and if it will stick. If they get excited and ask for more features than you probably have a great idea.
Meet people you don't know! Now it's important to be careful in more competative industries, but if you have an idea that you're burning to get out there, theres nothing stopping you from reaching out to your potential customers in person. You'll have to do it eventually no matter what, you might as well start early.
You could also run a Survey to see if people want or understand your thinking behind the product.
Step 3 Refine
Be ready to change. Any idea is going to get reinvented many times until it's a successful invention. So long as you have done step 1 and 2 properly you should know how good in a position you are to monetize your invention, wether it can be a business, and when you should patent your idea.
Best of luck inventing!
Some ideas for being smart about sharing ideas!
You have to understand the risks. The above tactics are almost always necessary to test out how good an idea is, unless you're already steeped in an industry. But people can copy ideas quick. There are horror stories out there like the selfie-stick KickStarter campaign that was copied and being sold before it even finished being funded. But risks are always going to be part of the challenge of inventing.
There are two strategies you can use to mitigate dangers, but at the end of the day you really can't  protect yourself completely against bad actors, there are cheaters and scammers out there. That said nondisclosure or confidentiality agreements can be a good strategy to protect yourself from potential partners, investors, or distributors who might take your invention for their own.
Another option is to just file a provisional patent, until you have your idea and business model 100% dialed in.
Neither of the above two options are full-proof, but will offer you a bit more protection while your idea is developing in the wild.