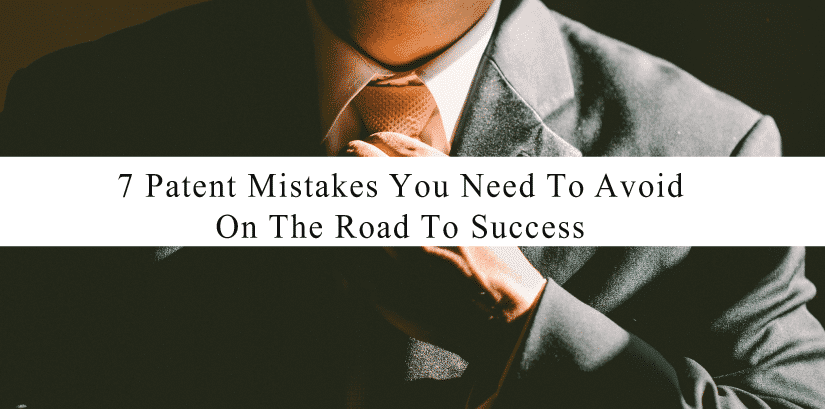 by aadibi
You have your invention. The next step is to get the patent.
As exciting as this process is, getting an invention patent can be costly, difficult, and tricky, for both individuals and startups.
It can be very easy to make mistakes, which can set you back on your patent goals.
We've put together a list of the biggest pitfalls to sidestep as you navigate the patent process. Keep these in mind as you move forward, and you'll be sure to see your invention through to its end smoothly and successfully.
7 Big Invention Patent Pitfalls to Avoid
1. Thinking that patience is a virtue.
After designing your invention, you may find it difficult to take action and pursue a patent right away.
However, waiting too long to fill out a patent application is the biggest invention patent pitfall out there. Getting a patent is a competitive thing, and procrastination on the part of inventors is a leading factor in preventing patent approval. While doing everything right is key you need to be ready to get moving once you have something you can monetize.
Putting off submitting an application can give someone else the opportunity to jump in and push their similar (or identical) idea through, which will put you and your invention at legal odds in the future. Remember we live in a first to file world, courts are no longer interested in who invented what first.
2. Forgetting to do a patent search before filing an application.
Have the next billion dollar idea? The SnapChat of Uber's of AirBnBs? Or the next grill that's going to blow Forman out of the water? (The Tyson Toaster does have a nice ring to it?) Just please, please before you get to crazy do a Google search or even DuckDuckGo if you insist. If you don't see anything like it anywhere on search engines, social media, or in the press then start to get serious.
Even though it is one of the most fundamental aspects of pursuing a patent, a lot of applicants forget to do a patent search in the beginning.
A patent search entails searching for all published patents to see if any of them have similarities to yours. A patent search can help you determine if your invention is novel or not.
This is absolutely critical from a legal standpoint when submitting an application. But more importantly it keeps you on-base and engaged in what you need to be doing.
3. Turning in a sub-par application.
This seems rather intuitive, but believe it or not, countless poor applications are submitted daily for patent approval. I know I recommended going fast and getting things done, but you also need to be diligent.
What constitutes a sub-par application? Often this entails poor drawings or an application that is not in line with the patent office's guidelines.
These guidelines are rigorous for a reason. Make sure you have a solid understanding of them before filing your application. Better yet, rely on a patent attorney for assistance for filing a patent.
4. Overlooking the importance of non-disclosure agreements.
I know Gary Vee and other entrepreneurs scoff at the idea of NDA's since speed is so essential, but this can be key in certain markets, or where leverage is lacking.
Inventors who rely on third-party assistance throughout their design process, or any other collaborative means, absolutely must make sure these parties sign non-disclosure agreements. It's just not worth it for many people, and we've all heard the horror stories…
A non-disclosure agreement ensures that anyone involved won't run out into the world with your idea and patent it themselves.
A lot of inventors don't cover their bases in this respect, or they do only towards the end of the invention process. It is absolutely crucial to ensure confidentiality during every step of the patent application process.
5. Refusing to collaborate or ask for advice.
If you've come up with a fantastic design or idea, it can be tempting to hold on to it and pursue a patent without assistance or collaboration. Wait didn't I say NDAs might be necessary? They sure are, but people who hid everything rarely get to an amazing invention, and often are just hiding the fact that they have nothing.
However, pursuing an invention patent in an isolated or independent way can be more harmful than designers and inventors realize. Friends and family members can provide valuable insight into your invention–after all, they are consumers too–and help you shape your design to fit the general market's needs.
Don't forget your colleagues, it's important to stay focused on progress while watching the market in general. Other people in similar fields can provide excellent litmus tests for your work.
It is also common for inventors to want to navigate the patent process alone, because of its competitive and legal nature. It's absolutely important to ask for advice and to make sure you are confident in every step of the process.
Build a trustworthy network of colleagues and friends as you take the patent step, and this will make the path much easier.
6. Not documenting and record-keeping enough–or at all.
Record-keeping is not just for medical and legal offices. In creating your invention or design, keep track of absolutely everything along the way.
This includes all sketches, computer programs, documents, and communications that involve all parts of the invention process.
Date everything that you can, even noting the time if need be. Back up all digital components on an additional hard drive or cloud system. This is not going overboard.
These records and documents will be important for many different legal considerations as you go through with your patent application. Think of it as covering your tracks as you make them.
Inventors who don't keep good records or documentation of their invention process will encounter immediate and difficult legal obstacles. Forgetting to notate can mean a poor patent application or a legal contest in the future.
7. Pursuing a patent or invention without a plan in mind.
This is one of the biggest mistakes out there when it comes to pursuing an invention patent, and it occurs all the time.
Many inventors pursue a patent blindly, thinking it is an easy process and that they'll get an approval without much effort. They tend to think only of getting the patent and don't pay attention to a detailed preliminary plan.
This lack of oversight can set a patent application back in many ways and have legal consequences.
It's absolutely crucial to think of going about getting a patent as an initial business move. All smart business moves have a strategy and a plan.
Begin by planning out any third party assistance you'll require, including legal assistance, and strategize how to perform all steps of the patent application process. Write out a timeline and use charts if need be. Brainstorm backup plans and write down any questions you have to ask your attorney.
Having a clear plan is essential to a successful patent.
Some Final Words of Advice
It's important to keep all of these potential mistakes in mind as you go about getting your patent. You need to be ready for anything.
You also should familiarize yourself with all aspects of the patent process. Know exactly what types of patents there are, and get a solid understanding of what a typical patent examiner does when your application is under review.
Understanding the ins and outs of the entire patent process will additionally help you avoid common mistakes and navigate every step with confidence.
Now that you have a solid grasp of what to avoid when pursuing your patent, it's time to get started with your patent journey.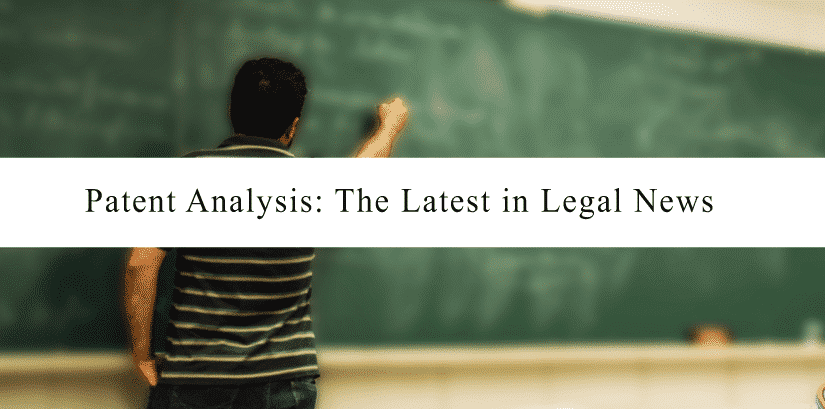 by aadibi
In an effort to help my clients and colleagues understand the latest in patent cases, I've began creating a library of patent analysis and the latest in the patent world. Stay tuned for the latest cases shaping the patent world!
Patent Case Analysis of In Re NuVasive
Overview of the Federal Circuit opinion for In Re NuVasive decided on May 31, 2017.
Link to Opening Brief:
https://federalcircuit.live/briefs/15…
Link to Intervenor Brief:
https://federalcircuit.live/briefs/15…
Link to Reply Brief:
https://federalcircuit.live/briefs/15…
Patent Case Analysis of Intellectual Ventures v. Motorola
Overview of the Federal Circuit opinion for Intellectual Ventures v. Motorola Mobility decided on May 31, 2017.
Link to Opening Brief:
https://federalcircuit.live/briefs/16…
Link to Appellee Brief:
https://federalcircuit.live/briefs/16…
Link to Reply Brief:
https://federalcircuit.live/briefs/16…
Patent Case Analysis of Checkpoint Systems v All-Tag Security
Overview of the Federal Circuit opinion for Checkpoint Systems v All-Tag Security decided on June 5, 2017.
Patent Case Analysis of Crossroads Systems v Cisco Systems et al.
Overview of the Federal Circuit opinion for Crossroads Systems v Cisco Systems et al. decided on June 6, 2017.
Patent Case Analysis of Secure Axcess v PNC Bank
Overview of the Federal Circuit opinion for Secure Axcess v PNC Bank decided on June 6, 2017.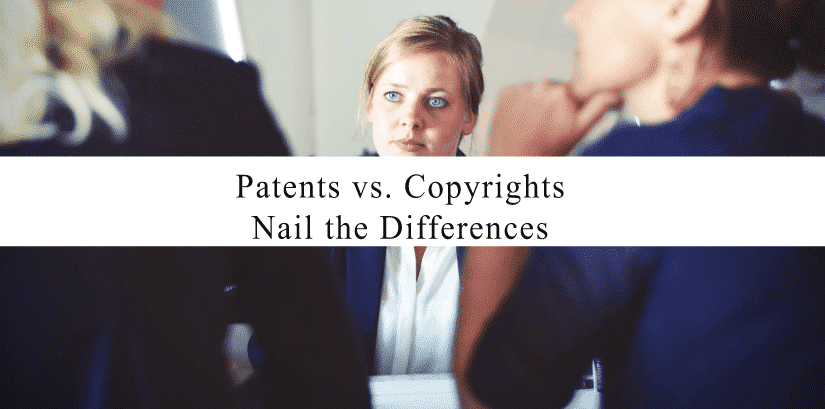 by aadibi
3 lawsuits in 2012 resulted in payouts of over $1 billion per each lawsuit.
Your new invention, or brilliant idea could one day cost you that much if you don't prepare yourself. Even if all that cash should have been rightfully yours.
Unfortunately the legal landscape is not always as friendly to entrepreneurs as it should be.
The one thing that you don't want to do is to get stuck between lawsuits. It could kill your company, but it's guaranteed to be massive distraction from what matters most to us all, innovation and making customers happy.
There are 2 major things that can protect your work, but there's pros and cons of using them both. A classic question in tech circles that often comes up is, patent vs copyright?
If you confuse one, somebody might be able to take your idea and sue you for using it. It's vital to know the differences between these.
Understanding Patents
A patent is a license that gives your invention protection by making it exclusive to you. When your innovation is patented, it means that nobody is legally allowed to use, make it, or sell it. That patent applies to all companies regardless of how big they are which gives smaller companies a major advantage.
Having your innovation patented gives you exclusive rights to it, and that means that you are the only person in the world that can use that particular invention, but it also allows you to negotiate with other companies.
If a company is using your patent without your consent, you have a right to get compensated and to charge for further use of it. You also have an ability to negotiate with other companies and exchange the rights to use patents for mutual benefit.
This is great when you have a patent, but it also means that if somebody already patented your idea, then that you will more than likely not be able to use it until you come to an agreement with the patent holder.
And that's why it's crucial to patent your invention as soon as possible, especially as a startup. Not only because of that though, this process requires a lot of waiting. Now it's key to remember that there are many types of patents out there, and intellectual property rights are a big topic!
You also only have 12 months from the time you first sold your invention to patent it. It takes around 2 years or more to get a patent. This is due to the complexity of certain patents and a number of patents filed compared to the number of people examining them.
There are several different types of patents, but utility and design patents are the most common. Utility patents protect new inventions while design patents protect a new design of a functional item.
A standard utility patent tends to last 20 years in the United States, but this varies across different countries. Each patent filed only applies to the country it was filed in which means that it's only protected in that country.
Understanding Copyrights
This is something that we see everywhere but yet often confuse. Pretty much everyone puts it on their work, and they legally can as that's how copyright works. Whatever you create, it automatically becomes copyrighted.
If your work is copyrighted, it means that people don't have the legal right to copy, distribute, or modify your work without your permission. If you wrote a book, that book isn't legally allowed to be modified without your permission. You are however legally allowed to take concepts from that work as they are not protected.
That does not mean that the ideas within your work cannot be used in other work either. For example, if an individual decides to use your story but he or she implements it in a different way, it might not be breaking any copyrights.
Your work is copyrighted from the second it is created. You can register your work to mark it as copyrighted which has its benefits as it gives you proof that your work was created when you said it was if there ever is a need to show that. That process does take up to 10 months.
The problem with copyright is that there's a lot of ways to get past it. For instance, you can use copyrighted work under the "fair use" license. Copyright is also limited as you can use copyrighted work under "fair use."
Work can be copyrighted for 70 years plus the life of the creator.
A person that holds the copyright has an ability to place a license on their work which may allow an individual to use the copyrighted work as long as they stick to the rules.
Patent vs Copyright
So, patent vs copyright, which one do you need?
A patent protects your inventions from being used by other companies or individuals in their works while copyright protects you or a creator of any content of any form whether it is writing or music from the illegal distribution, copying, or modifying of that work. Ergo, that groundbreaking app you're working need copyrights for it's contents and/or logo, the logistical tech behind it needs a patent.
Patents vs copyrights and duplication? Both of them protect your work from being copied. But a patent protects your invention from being copied. Copyright doesn't protect inventions. It only protects your work.
That means that while your book that describes inventions cannot be copied, distributed, or modified without your permission, the ideas within it can be used freely for any purposes unless patented.
And when it comes to patent vs copyright, that's the biggest difference.
Breaking patents is more serious than copyrights based on the fact that breaking copyright can result in a fine of $200 all the way to $150,000 while a breaking of patents can result in fines costing billions. Patent vs copyright? It's simple to copyright your work but it's also not as well protected as patents are.
It's also a lot easier to bypass copyrights for example by using "fair use."
While a copyright can last for 70 years or more, a utility patent generally lasts 20 years meanwhile a design patent lasts for 14 years.
So which one works best for you? Patent or a copyright?
Copyrights are great for creative creators such as writers or graphic designers, but copyrights won't ever protect your inventions.
Conclusion
Patent vs copyright? You now learned about the differences. You also learned that patents are important and that you have to wait a long time. Therefore, you should make sure that it's done right. Get in touch!
TL;DR: If you are an artist, then you don't need a patent for your work. If you are working on inventions that were never seen before, you without a doubt do. Otherwise, your idea might soon not be your idea, and you might find yourself filled with lawsuits.